Services
Marketing Strategy
Brand Strategy
Data Insight & Analytics
Paid Social
Paid Search
Video & Animation
Over the last 10 years, the pub has been challenged by the coffee shop, the leisure complex, the diversion of traditional sports into high energy experiences and the home entertainments market.
Owned and backed by TDR Capital, our relationship with EI Group is focused on delivering fast growth and digital transformation across their 4500 pub portfolio. Working with leased and tenanted and managed operations we drive customer growth, support talent acquisition and activate partnerships with suppliers.
01. Objectives
The marketing challenge
Following a record-breaking National Pub Fortnight project in 2018, Ei Group asked BBI to support the digital transformation of their marketing activity across their estate. With a struggling industry the challenge was keeping the pub front and centre in the hearts and minds of friends and families looking for quality experiences that can be enjoyed together.
In five generational era where friends and family are looking for enriched experiences to spend quality time together, our role was to put the Great British Pub front and centre in the hearts and minds to drive footfall and encourage repeat visits.
With the quality of experience relying heavily on the publican and managers, a modern recruitment strategy would play a key role in inspiring a new generation of publicans. Shifting perception from the dream of running a pub to a lucrative and rewarding business opportunity, would be the key to building enriched experiences to engage multiple generations, well.
02. Insights
Uncovering insights through Customerology™
At BBI we move audiences using a blend of behavioural & analytical data to develop content led campaigns that deliver true performance. For Ei, this meant creating a strategic framework that moved beyond individual tactical campaigns and into a joined-up strategy focussed on the key groups that would deliver the returns needed:
01

Publicans – both inspiring and supporting existing publicans as well as recruiting the next generation of talent

02

Consumers – providing relevant experiences to a five-generational audience that puts the pub back into their hearts

03

Suppliers – developing co-funded experiences that suppliers wanted to be part of.
We combined analytical data from multiple sources with behavioural motivations and triggers. This approach delivered a rich playground of insights to direct creative content streams and channel strategies.
Our research not only allowed us to understand the motivational triggers, but also allowed us to identify the optimum mix of channels and plan the optimum phasing of activity. We looked to connect audiences looking for rich and varied experiences, and crafted a strategy to run throughout the year to activate audiences and drive footfall.
03. Solution
Connected activation to drive true performance
Inspiring and recruiting the next generation of talent
With January being a key recruitment period for the industry, the campaign needed to pack a punch and deliver impact to ultimately increase quality of leads and reduced costs per let.
Behavioural drivers inspired a rationale focused around 'The more rewarding way to run a pub'. Customerology™ matched insights with creative solutions that identified spirit animals as the connector, emphasising the breadth of traits that a potential publican could have.
Four core content pillars focused on activating the heart of the community, choosing a publican way of life, entrepreneurialism and the realisation of ambition and aspirations. Content narratives to support content drove realisation amongst audiences and highlighted the detailed support available from Ei:
Publican backgrounds
Support and guidance
Finding success
Addressing challenges
Realising a vision
Pushing potential publicans down the funnel
Effectiveness was ensured by mapping journey touchpoints with mindset considerations linked to effective contact channels. The creation of this detailed recruitment journey enabled Ei Group to effectively filter the right suitable candidate and successfully move them down the recruitment funnel. Prospecting creative formats were used to influencer at different touchpoints on the recruitment journey.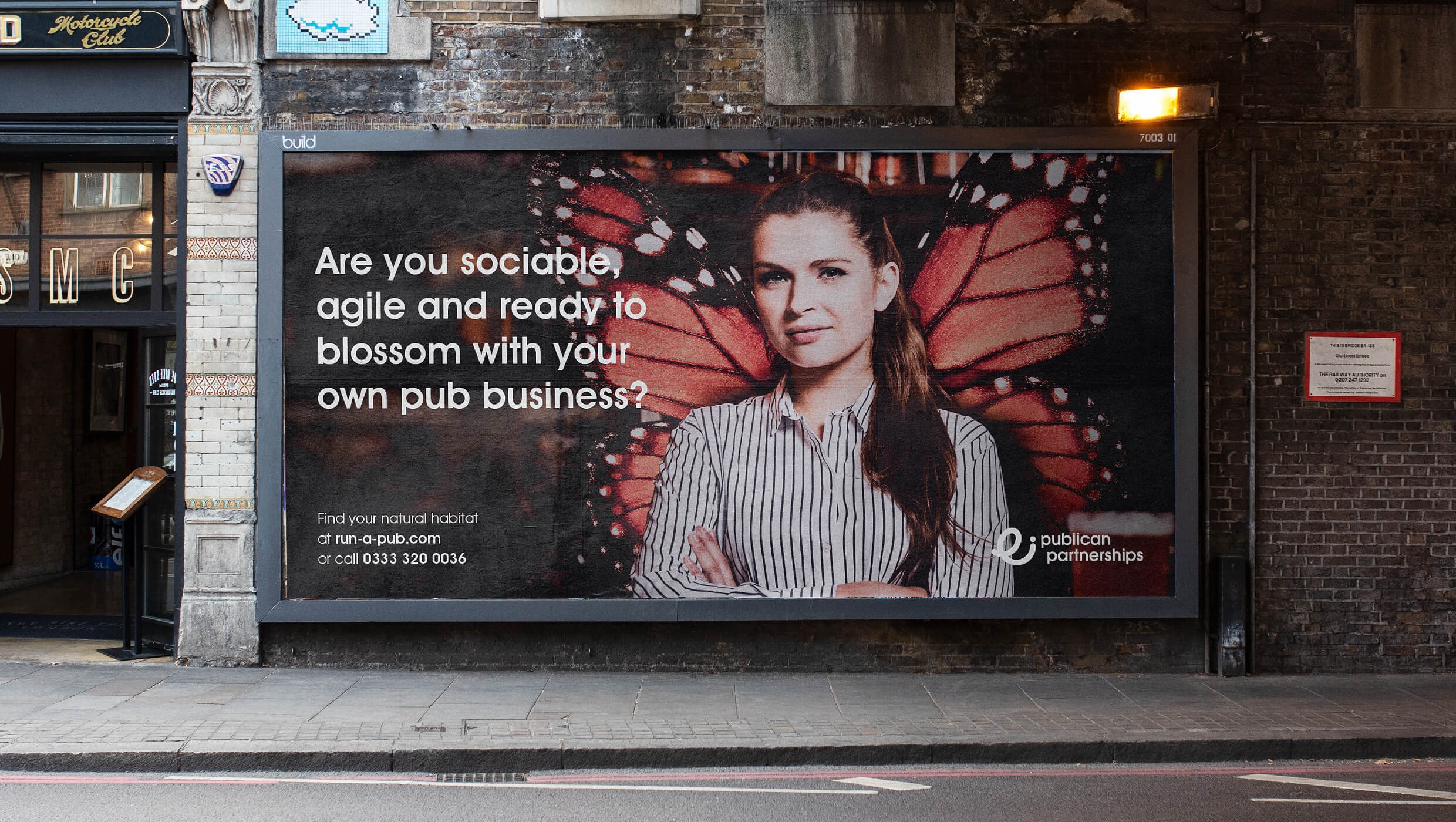 Ei Group's most successful National Pub Fortnight ever
What do you get if you combine 100,000 free pints, two summer weeks and pub party games? National Pub Fortnight. Created as an annual event to celebrate the role of the local in the community, National Pub Fortnight brings two weeks of celebration to thousands of great British pubs throughout the country.
For three years, BBI has been working with EI to connect great pub experiences with to drive footfall and voucher redemptions, raise awareness of the important role the pub plays in the community, and to champion the Great British Pub.
In its fourth year, with ambitions upped to create the best year yet, we used Customerology™ to connect behavioural insights with outputs to build relationships with new, younger audiences currently spending their leisure time in other experience led venues.
Alternative Happy Hour
High impact creative content matched behavioural drivers to deliver interactive content experiences positioned around the alternative Happy Hour.
The 'Alternative Happy Hour' encouraged mindfulness, appealing to guests to switch off their phones, play board games, and read only happy news; infographics and the 'Drinker or Thinker' interactive game helped drive digital coverage and engagement via social media channel.
Media & PR results
With hundreds of local and national news coverage items (a +33% increase on the year before), a +178% year-on-year increase in voucher redemptions, and a staggering +61% increase in pubs visits, this was Ei Group's most successful National Pub Fortnight ever. We'll drink to that!
226 m

total online readership

61 %

increase in pub visits

178 %

Y-o-Y increase in voucher redemptions
Knocking Nana off the #1 Sunday Lunch Spot
Great British Sunday roasts, share-buckets for sport, burgers to push bellies to the limits and Christmas lunches your Nan would be queuing down the street for. As part of EIPP's vision to become a sustainable and environmentally friendly businesses, we were asked to promote the new core menu digitally for the first time. One of the division's objectives was a focus on being a sustainable and environmentally friendly business.
With a central marketing campaign to promote a new menu to land across multiple sites, being overly reliant on posters and in-pub POS was outdated, difficult to measure success and importantly, not environmentally friendly.
Digital social platforms lend themselves to food. From M&S 'food porn' adverts to 'Instagram- able' dishes, we can get the mouths watering of multiple generations via social media, cost effectively and targeting the right locations to drive footfall.
Content-led, the video menu showcase was impactful in feed. If that made you stop but you still weren't sure whether to book, a 25% off voucher incentive was incorporated for that extra nudge to convert followers to customers.
Test, test and test again, the campaign ran in three phases using pilot pubs. Insight into performance allowed us to optimise, improve and expand, ensuring ultimate ROI.
Test, test and test again, the campaign ran in three phases using pilot pubs. Insight into performance allowed us to optimise, improve and expand, ensuring ultimate ROI.
The business division reported food sales up in the immediate period following the campaign and the core menu – the focus of the campaign - was the highest growth category in food sales in the month that followed.
How do we know we converted Sunday lunch lovers? Because our roast dinner awareness content was the top performing and reminds us why Sundays should be spent in the pub with family and friends.
1.8 m

total online readership

30 k

increase in pub visits
Innovative and unique supplier campaigns
A clever combination of strategic partnerships and content campaigns powered by paid and earned activity connected Carling with communities and Foster's with the Friday moment.
Carling in the community
Carling's partnership with Ei Group provided a fresh challenge: to gain local and national exposure for their 'Your Pub Can' Corporate Social Responsibility initiative. This multi-million-pound community funding scheme was created to drive local applications for the project - as well as increasing visits to Ei pubs everywhere.
Customerology™ helped us to understand and deliver on the challenge, using an intelligent combination of earned, paid and owned media to activate local communities across the UK.
We developed a tightly crafted PR campaign, working with over 100 regional print, broadcast, and online news outlets across the UK. This worked alongside the 'Make Your Local the Hero' campaign. Giving publicans access to campaign materials and resources including posters, beer mats, free social media activation kits and even video content, we enabled them activate the promotion inside their own pub - galvanising the patrons into supporting their pub and their community.
Estimated online readership was 13.2 million, with tens of thousands of coverage views. Major regional titles shared the campaign story too, making our PR campaign a huge success for Ei Group. What's more, our paid campaign reached over 530,000 local people across 800 different pub locations, with many using yourpubcan.co.uk to find their nearest pub.
A Fosters on a Friday? Get in!
Working with Fosters, Ei wanted to own Friday night to position the pub as the place to go at the end Customerology™ used behavioural insights to connect with audience motivations on a deeper level. We created humorous video content focused on the many reasons people visit the pub, and used a powerful social campaign to engage with Beacon pub's key audience, driving Friday footfall.
Our high-impact targeted creative was able to reach a number of specific audiences, based on precise locations and demographic intelligence. We included geotargeting techniques around the participating pubs, and used campaign elements supported by the 'Friday Starter-Pack' created for publicans by Fosters. Then we used the learnings and results from each week of the campaign to refine the next, ensuring our creative and messaging was working as hard as possible.
And it paid off. Over 2 million impressions reached over a million customers with a low cost per video view - placing Ei Group's Beacon pubs at the forefront of the nation's Fridays.
04. Results
The power of content-led performance
Our work with Ei Group has supported year-on-year growth of their digital footprint across the 4,000-pub estate. It's a partnership founded on industry expertise, our unique Customerology™ approach, and a relationship that's flourished through enjoying working together and achieving great results.
We moved audiences across every segment from new publicans to suppliers. And most importantly drove incremental footfall into bars across the country that got the pumps pouring and tills ringing.
"Big Brand Ideas must be congratulated in speedily getting to the core of the challenge ahead and swiftly turning the objectives into a well-orchestrated campaign that contributed to a significant positive shift in drink sign ups, voucher redemptions and pubs visited."
Jon Dale
Head of Communication, Ei Group